[Review] Manga: Love and Trap
Recently I had the opportunity to read DMP's Love and Trap by Kotetsuko Yamamoto. While young adult romance isn't usually on my list, I wanted to give it a try.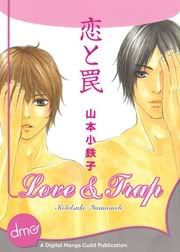 Love and Trap is the main story, but the author has also supplied her readers with two other stories (Love Blood and We're Blooming), which are short "one-shot" chapters.

Love and Trap introduces us to Mochida Masaki, a high school student who has been the victim of senseless violence for years and he'd had enough. He chose to seize an approach in order to protect himself at school-- he sleeps with the popular student, Satoyama. He "traps" him in order to manipulate protection and for a while, it seems to work. The other students notice that no one has messed with Mochida and that Satoyama has taken a liking to him. Even Mochida has Satoyama convinced that he genuinely has feelings for him, but eventually, the routine becomes a headache for Mochida.

He soon finds himself drawn to the resident bad boy of his class, Aihara, and wonders why the slacker is on his mind. He tries hard to keep things "business as usual", but his feelings for Aihara are becoming harder to deal with. Finally deciding to try his hand at dating, he's taken aback when he discovers that dating isn't as easy as it seems, especially when he's used to resorting to sex as a way to show his feelings. He also learns that there are more sides to the slacker Aihara than he'd first thought.
Love and Trap is a very sweet, light read and I highly recommend it for those who fancy this side of the BL genre. The intimacy is lightly shown-- if shown at all-- and it took some getting used to. While I'm more into explicit scenes, I welcomed this nice change of pace and grew to fancy Aihara. He wasn't afraid to fall asleep in class because he was bored to death, or be brutally honest when he confronted Mochida on the train about the visible hickeys Satoyama left. Nor was he afraid to tell his lover where he was messing up-- especially when Mochida felt there was something wrong because Aihara wasn't so quick to sleep with him as his previous lover was. While Mochida's low self-esteem was a bit predictable-- but a necessary evil-- the rest of the story and the affection Aihara gives his lover makes up for it.

Overall score: B+